I wrote these poems circa 1968-1972 when I was courting my wife at Michigan State University. Her family owned a cottage on Sylvan Lake with is part of a chain of four lakes in Newaygo county within the Huron-Manistee National Forest in the lower peninsula of Michigan. My wife's father had built the small cottage (just two bedrooms, one with two bunk beds for the kids), and she had spent idyllic summers there growing up. I visited several times. It was both wonderful and a little strange to enter their closed forested world, surrounded by hills.
When I was writing these poems, Gary Snyder's voice was rattling around in my head. I had heard Snyder read twice at MSU, and my main creative writing teacher, Albert Drake, was a big fan. Visiting Sylvan lake was, perhaps, as close as I would ever come to living in the Pacific Northwest.
I have kept these poems largely as they were—the lack of punctuation, the random indents, the obscure images—they are exactly as in the originals. I fixed only obvious typos. You may find that some of the lines make little sense; I confess, they make little sense to me either.
I blame Gary Snyder.
About the Images
These images in these poems are from a portfolio of six note cards by the late  Gwen Frostic. Frostic was a Michigan linoleum block artist and entrepreneur. She set up her own press to produce her work (Presscraft Papers), and a gift shop to sell it. Her work is still for sale online or at her store in Benzonia Michigan.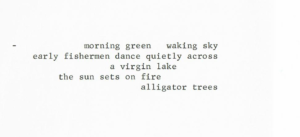 I typed the poems on the cards using an IBM Selectric typewriter. The portfolio had twelve cards, and unless I bought two portfolios, I successfully used them all. The typing is remarkably clean. There are only two strike overs and no white out in the original cards: surely the pinnacle of my work as a creator of visible text using a mechanical typewriter.